Diversity, Equity and Inclusion
Accra diversity, equity and inclusion vision
Accra is a diverse, inclusive, and equitable workplace in which all employees, whatever their race, ethnicity, national origin, age, sexual orientation, gender identity, education or ability, are valued and respected. Each employee can bring their whole self to work. We are committed to an equitable approach and provide equal opportunity for employment and advancement at all levels within our departments, programs, and worksites. We respect and value diverse life experiences and heritages and ensure that all voices are valued and heard.
Our staff reflect the demographics of the communities we serve, and we're committed to modeling diversity, equity and inclusion within our industry and the nonprofit sector. We are also dedicated to maintaining an inclusive environment with equitable treatment for all.
2023 DEI Theme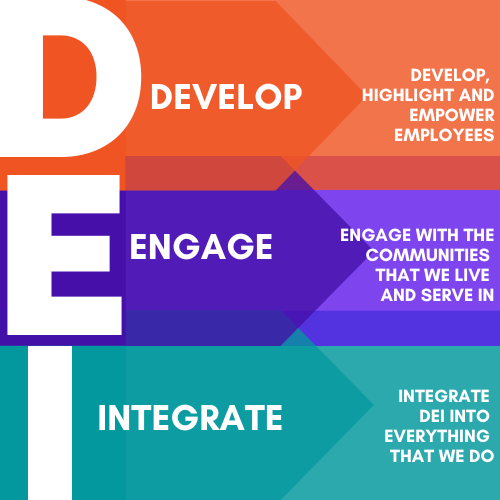 At Accra, Diversity, Equity and Inclusion are more than just buzzwords
We acknowledge that creating a workplace that is truly diverse, equitable and inclusive requires ongoing effort, and we are committed to doing the work necessary to make it happen. We believe that diversity is our strength and that we are all better off when everyone has the opportunity to contribute to their fullest potential.
Accra's Diversity, Equity and Inclusion efforts began in 2020, and since then we have implemented several initiatives and programs to support our DEI efforts. Here are some of the engaging DEI initiatives at Accra:
Accra Support Group
The Support Group provides a safe, non-judgmental space for employees to discuss current events, DEI topics, or anything weighing on their minds.
DEI Book Club
Our DEI Book Club gathers to discuss books that correspond to our monthly DEI observances and highlight diverse perspectives, stories and experiences.
DEI During Spirit Week
In 2022, we held our first Spirit Week! This event encouraged staff to celebrate their heritage, share photos of themselves in cultural clothing and discuss their culture with their colleagues. We welcomed speakers with unique perspectives and expertise in DEI to discuss topics affecting marginalized groups.
Employee Panels
Accra hosts employee panels where our team members share their perspectives and experiences with their colleagues and build community.
Giving Back to Our Community
Our DEI team continues to lead volunteering efforts and donation drives throughout Minnesota to support the communities we serve across the state. Our efforts have supported Feed My Starving Children, the Damiano Center, Joseph's Coat, Toys for Tots, and local food shelves.
Monthly DEI Bulletin
Each month, Accra bulletin editors create a new edition of our DEI Bulletin that highlights local happenings, shares employee perspectives and brings awareness to DEI issues.
2022 DEI Survey
95% of our surveyed employees felt that Accra is Committed to DEI.
We are very proud of the progress that we have made in our DEI efforts with the understanding that building a successful DEI culture is a journey. Accra is committed to continue to listen, learn and improve so that we can create a workplace where everyone feels valued, supported and empowered to do their best work.
We are an Affirmative Action Equal Opportunity Employer
In order to provide equal employment and advancement opportunities to all individuals, employment decisions at Accra are based on merit, qualifications, and abilities. Accra does not discriminate in employment opportunities or practices on the basis of race, color, creed, religion, sex, national origin, age, disability, veteran status, military service, union membership, marital status, familial status, sexual orientation, gender identity, status with regards to public assistance, genetic information or any other characteristic protected by law.
We can help you get started in a new career.