John Dahm
President & CEO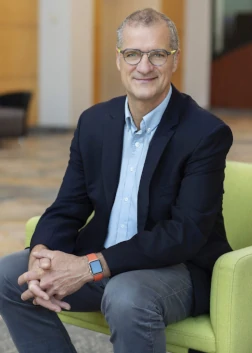 President and Chief Executive Officer
John has served as Chief Executive Officer since June 2011, but his journey with Accra began in 2004 when he served as the organization's controller and Chief Financial Officer.
John is a visionary leader with a passion for serving others and providing the best care possible. By creating processes that make it easier to access services, setting a strategic vision to serve more communities, and leading a team of the most compassionate and intelligent people in the industry, John's passion is helping Accra fulfill its mission of improving lives by providing individualized home care services and support to people living at home.
John sees firsthand the impact Accra has on individuals, families, and communities throughout Minnesota. Under his leadership, Accra is transforming the industry to better meet the ever-evolving needs of those who require homecare services and support to live at home.
Working in healthcare has exposed John to people whose realities and day-to-day lives are very different than his own. This perspective drives John to lead with empathy as a core value. Whether it's through scaling up a service, or building up great people, John knows that meeting people where they're at is a critical component of advancing the mission of Accra and meeting the needs of those it serves.
Prior to joining Accra, John served as controller and finance director at Partners in Community Supports, a nonprofit social services organization and licensed fiscal support entity. In addition to almost two decades in the home care and nonprofit industry, John spent three years as a controller and Chief Financial Officer in the IT consulting field and six years in the agriculture industry. John's extensive accounting background has allowed him to build a strong and financially sound foundation for Accra.
John has a bachelor's degree in Business Administration and Accounting from the University of South Dakota. When not working, you can find John cruising through bike trails, engrossed in a good book, or curiously engaged in conversation with someone new.