Erin Gains Her Independence Through Accra's PCA Choice Program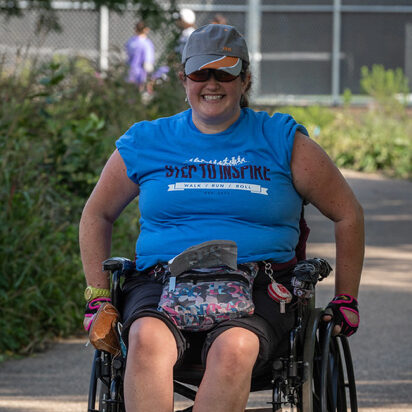 "The best part about working with Accra is Accra itself. Each person is friendly, they are real, they answer the phone and are knowledgeable. If I need something explained slowly, they do that for me. I feel that Accra knows their clients in a way that helps make me feel safe and secure. Each day I am confident that my care is handled safely and professionally."

Erin McDonald
For more than 15 years, Erin McDonald has suffered from Reflex Sympathetic Dystrophy (RSD), a rare, progressive and painful neurological disease that is characterized by strong burning pain throughout the body. For Erin, her RSD pain manifests in her arms, shoulders, legs, feet and jaw and over time, the pain continues to progress to more areas of her body.
Yet it wasn't until 2017 that Erin found Accra's Personal Care Assistance (PCA) Choice program after experiencing a cardiac event and an anoxic brain injury. After Erin's cardiac event, she began taking a statin, a drug often prescribed following significant heart issues. What Erin didn't know is that she had a critical allergy to the medicine and over time, it caused an anoxic brain injury, leading to significant brain damage. "As I took the statin, I didn't know what was happening to me and eventually it hit a point that the damage was done," Erin said.
Erin's brain injury was so severe that she could not speak properly, and she spent the first year post-injury working to regain feeling in her legs and learning how to walk, talk, see and hear. To this day, Erin uses a wheelchair, suffers visual impairment and experiences a loud ringing sound in her ears at all times. Due to this change in her physical and cognitive needs, Erin needed more support.
When Erin sought out Accra's PCA Choice program, it was not the first time that she had received support from a personal care assistant in the home. At this point, she wanted to explore the possibility of having her brother, Cian as her PCA to enable easier communication with a caregiver that she trusted and that personally knew her needs.
"Having good PCAs is important to me, but having great PCAs is huge," Erin said. "Cian is a really good PCA, and best of all, he's family. He was trained by Accra and learned how to take care of me, but also knows my needs before I do. Honestly, the alternative for me is to live in a nursing home and having in-home PCAs enables me to lead a much more independent life."
Each day, Cian helps Erin get dressed, transfer to and from her wheelchair, address general hygiene, prepare meals and enables her to physically get out of the house. As her primary PCA, Cian also helps Erin get to church, physical therapy, appointments and more. Outside daily care and support, he also helps clean Erin's apartment to make daily living easier in her space.
Cian is also crucial to helping Erin with her medications, ensuring that she takes them at the right time and in the right sequence.
Most importantly, Accra has enabled Erin to reach a sense of independence that she would not have without in-home PCA care. Erin has many friends and colleagues that live in assisted living facilities, and due to the COVID-19 pandemic, many of them were unable to leave the facility for at least six months.
"Me being able to have an independent life is 100% attributed to having PCAs through Accra," Erin said. "I get out with Cian, I can go around the block and see things, only because I have the freedom to be independent. Many of my friends don't have this freedom."
Erin has also cited the customer service, training, easy-to-use forms and sense of safety as benefits to working with Accra's PCA Choice program. Erin was previously robbed by a PCA from another company, which made her wary of hiring another untrusted caregiver. With PCA Choice, Erin could hire PCAs that know her better than anyone else and depend on a network of support that reaches beyond her in-home caregivers.
"The best part about working with Accra is Accra itself. Each person is friendly, they are real, they answer the phone and are knowledgeable. If I need something explained slowly, they do that for me," Erin said. "I feel that Accra knows their clients in a way that helps make me feel safe and secure. Each day I am confident that my care is handled safely and professionally."