Katie's Caregivers Speak Her Language
Accra's self-directed services remove headaches and allow Katie to live her best life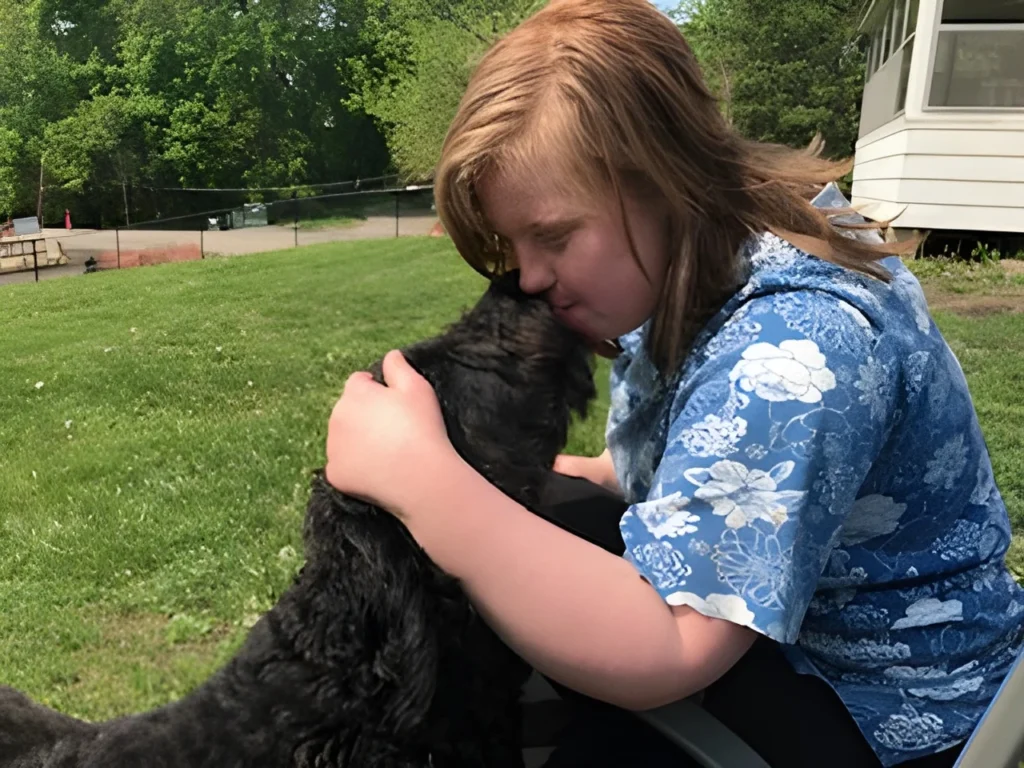 Since the onset of the pandemic, Deborah and her husband have stepped up in a big way to ensure the best care for their daughter Katie. Now 27 years old, Katie has Down syndrome and is diagnosed on the autism spectrum, so the family is constantly concerned about her safety, in and out of the home.
"She's so friendly, overly friendly, but she wouldn't recognize stranger danger. Or weather danger or street traffic danger or fire danger, for that matter," Deborah said. "So safety is number one. Particularly when she's out in the community, she can't be alone because of these judgment concerns."
Finding reliable caregivers was complicated by the disruption and labor shortages of the pandemic. And Katie's day program provider closed to protect its participants from the spread of COVID-19. Due to these new challenges, Deborah retired early from a long corporate career and became Katie's primary, full-time Direct Support Professional (DSP).
"It's really been a blessing to be able to support Katie full-time as her DSP during the pandemic and beyond, rather than have to rush off to the corporate world every day or jump on a laptop."
Choosing Accra
Katie and Deborah started working with Accra as soon as Katie turned 18 years old because that milestone drastically changed the services she qualified for. Numerous advantages drew Deborah to Accra.
"I felt it was particularly important to have the best rate possible to attract quality caregivers for Katie," Deborah said. "So that was one of the first things that attracted me in talking with Accra; their hourly wage was very impressive. Accra also had a very good reputation… everyone I spoke with spoke highly of Accra."
Katie now receives self-directed services through Accra's 245D Waivered Services and PCA Choice programs. With PCA Choice, clients like Katie independently hire their caregivers, who can be friends or family members who they trust. And the PCAs assist with "activities of daily living," such as dressing, grooming and bathing, as well as light housekeeping, laundry and meal preparation for adults.
For Katie, Individualized Home Supports Without Training, part of the 245D program, are just as important. Through IHS Without Training, direct support professionals can provide direct supervision, cueing, guidance, instruction, and assistance with coordinating and attending community living activities.
As Katie's DSPs, Deborah and other caregivers can supervise Katie, protect her from safety threats and take her to and from her favorite community activities. Additionally, they provide behavioral support, redirecting and cueing behaviors that promote a safe and healthy lifestyle.
"It's just really been a great partnership with Accra. They've managed the waiver and helped me understand the need-to-know details that go along with having a waiver, some of which are complex to the layperson! So I've not really had to dig too deep to fully understand all of the waiver intricacies, which is great because we have our hands full providing the direct support and managing the transportation, medical needs, community integration, and so forth for Katie," Deborah said. "Everyone that I've dealt with at Accra has been so wonderful – caring and competent."
Turning Passion into Action
Full of energy and joy, Katie is a passionate person with many hobbies and interests. As a huge sports fan, she likes starting her day by watching gymnastics, baseball or basketball online.
During the day, Katie enjoys on- and off-site enrichment classes and activities with her day program and finds other ways to engage with the community. Even after a full day of activities, Katie participates in a few evening programs at Gigi's Playhouse, including a weekly drama class and a program that focuses on cooking, exercise, and social communication skills. Katie is also a regular churchgoer and loves the social connections she's built in her faith community.
When the summer rolls around, Katie and Deborah get outside more and spend time with friends. One of their neighbors has a black goldendoodle named Olive that Katie plays with when the weather is nice.
"Olive's owner is just wonderful," Deborah said. "He sets out a couple of chairs in his fenced yard especially for Katie and her DSP to use when visiting Olive. And so almost every day when the weather allows, we go sit with Olive. Olive and Katie have a very special relationship, with a lot of kisses and playing fetch."
Whether it's a neighborhood canine, friends or family, Katie wants to connect with everyone, and naturally, she enjoys learning new languages. She took Spanish classes in high school but really latched onto American Sign Language (ASL).
With years of studying, Katie has become nearly fluent in ASL and occasionally teaches classes. Deborah's brother's girlfriend is a first-grade teacher in Washington State, and once a year, she invites Katie to teach the students ASL over videoconference.
Katie has assisted in teaching an ASL class for kids with Down syndrome at Gigi's Playhouse, which delivers educational, therapeutic-based and career development programs for individuals of all ages with Down syndrome. Sometimes Katie helps staff members teach ASL at her day program, too.
"She's brought in to teach that with the main teacher, and Katie is the dictionary. If the main teacher doesn't know the sign for something, chances are Katie knows the sign," Deborah said. "It is one of her big passions, and it is amazing."
A Personal Touch
As Katie has become more independent and gained new skills, the family's 245D Service Coordinator, Maggie, has made life easier and helped them navigate the homecare realm.
"We've had Maggie for so many years, and it's really been a great partnership," Deborah said. "If there are any questions, any challenges, anything, I can reach right out to Maggie and get a pretty much immediate response."
Not long ago, Deborah and her husband needed out-of-home respite care for Katie. They found a great couple willing to provide the care for a weekend here and there, but they still had to make their case to the county for approval. Maggie gathered the necessary information and helped them secure the respite care approval.
"She's really been an advocate and a liaison, and a cheerleader for us, so we've really appreciated that," Deborah said. "I think that's why we'll never leave Accra – the personal care that we're getting as responsible parties, parents, and direct support professionals ourselves."