Despite Life and Health Changes, Darlene Finds Independence and Community at High Street House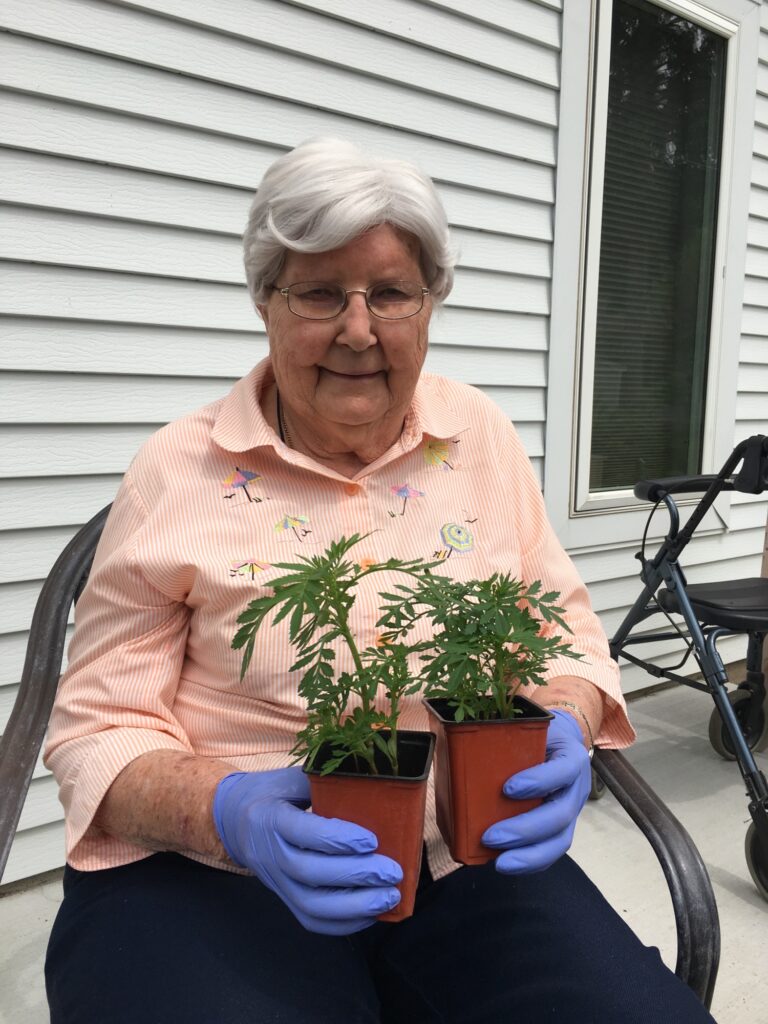 "We've got it made here. At High Street House, we're like one big family."

Darlene Yotter
As we age, our activity level, physical capabilities and mental acuity naturally begin to decline. This often inhibits our independence, resulting in the need for more personal support. For Darlene Yotter, having both the right care plan and a quality support team on her side has ensured that nothing will slow her down.
Darlene is a resident of Accra's High Street House, an 11-apartment, 24-hour care assisted living community nestled in Lake City, Minnesota. Often seen engaging with the community, embroidering towels and participating in High Street House's on-site activities, such as gardening, Darlene is among the community's most independent residents.
High Street House's focus is to provide personalized care services to enable each resident their greatest amount of independence. Nurses and on-site staff conduct a pre-screening with potential residents to determine their needs and build a care plan dedicated to meeting those needs. The team at High Street House knows that each resident's situation is unique, and that over time, their needs will evolve. Every 90 days, the staff conducts an assessment to evaluate each resident's status and make changes to their care level.
In 2016, Darlene and her husband, Donald, experienced changes to their health and moved into one of High Street House's apartments. Before deciding on High Street House, Darlene and Donald toured other assisted living communities.
"When we toured a different assisted living community, the walls were all white, and it didn't have a warm feeling," Darlene said. "But when we toured High Street House, Donald said he could see himself living here. I agreed and felt okay leaving our home knowing that we would be looked after."
Ultimately, the couple chose High Street House for its location in their hometown, as well as the care and independence the community had to offer. Sadly, a mere three weeks into living at their new residence, Donald passed away due to Leukemia. Since then, Darlene has been living at High Street House independently and pursuing her passions.
Darlene enjoys embroidering in her apartment, visiting with her son and engaging in community activities. Prior to the COVID-19 pandemic, High Street House offered on-site group and individual activities, ranging from drawing to bingo to light physical activity, all customized to residents' interests and skill sets. Normally, meals are served family-style too, so residents can dine while enjoying the company of their neighbors.
Unlike some other residents who might need more day-to-day support, Darlene handles most daily grooming and personal care tasks independently. Nurses and on-site staff typically support Darlene with her medications; daily and weekly vitals checks; laundry; and anything else she might need upon request.
In general, it is hard to leave your home, modify your environment and change your habits, yet the team at High Street House reports that Darlene is a huge testament to High Street House's care in supporting the highest level of resident independence.
Despite the temporary changes at High Street House as a result of the pandemic, Darlene is still as independent as ever, seeking opportunities to remain engaged in the Lake City community and safely connect with her children.
"We've got it made here," Darlene said. "At High Street House, we're like one big family."